Leak Detection
Serving the greater Las Vegas, Henderson, & Clark County Nevada areas
Leak detection in Las Vegas is highly specialized. We have the tools and equipment to find any leak. We use highly sensitive radio frequency equipment to scan an area for your leak. We can find
slab leaks
,
pool leaks
, spa leaks, virtually any leak anywhere.
Slab leaks can cause damage to your property. If left unrepaired, a slab leak can cause large sinkholes. Mold issues can develop. As the leak grows, your water bill increases month after month. Your foundation can become damaged causing even more severe issues.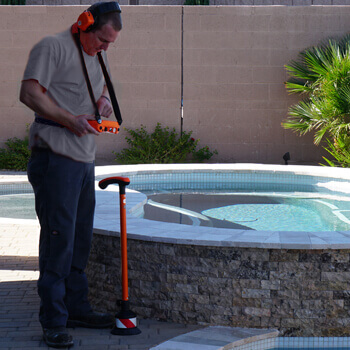 We can examine your pool and find out if you have a pool leak. We can pinpoint the area of any leaks. If the problem is in your lines we can pressure test them without digging them up.
All Trades specializes in all types of leak detection. We can find that hidden leak and fix it for you. Contact us today and make your leak problems go away.