Electrical Services
Serving the greater Las Vegas, Henderson, & Clark County Nevada areas
When you need electrical services, All Trades is here to serve you. Our team installs everything from ceiling fans to whole-home generators. You can count on All Trades for outstanding installation and customer service.
ELECTRICAL SAFETY INSPECTIONS
Electrical safety inspections are an annual checkup every business and homeowner should have done. All Trades licensed electricians come to observe and identify any potential issues within your home or business's electrical system. We measure its performance and ensure it is working at optimal capacity. Electrical safety inspections are just like a doctor's appointment – they should be scheduled once a year. Annual electrical inspections help minimize safety risks, malfunctions, and prolong the life of your electrical system.
ELECTRICAL CODE UPDATES AND CORRECTIONS
When you are ready to buy or sell a home, there are sometimes wiring and electrical issues that need to be resolved before the sale can be completed. All Trades follows very strict code compliance standards. We specialize in correcting any electrical issues you may have within your home. Electrical issues aren't something you should take lightly, and we don't either.
WHOLE-HOUSE SURGE PROTECTORS
Whole-house surge protectors protect all of the appliances in your home from voltage spikes. They limit excess electrical current by blocking its flow or by shorting it to ground, much like a pressure relief valve. They are an added layer of electrical safety for your home.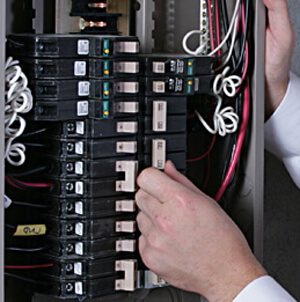 CIRCUIT BREAKER REPLACEMENTS
Replacing a broken circuit breaker is something most homeowners don't want to mess with. Let the professionals at All Trades install and test your new circuit breakers. We can also update your old
fuse-style
breaker box into a modern, safer mechanical breaker box.
WIRING UPGRADES
Faulty wiring can cause fires. Rewiring your home is a once-in-a-generation home repair that should always be done by a licensed electrician. All Trades can undertake this project for you, with minimal disruption to your home and family.
DEDICATED COMPUTER CIRCUITRY
One of the most frustrating experiences for someone who works in an office is a computer shutdown. You're in the middle of an important project, keying in specific data and your connection fails. For those who rely on telecom connections, compromising the circuit and losing your connection can be equally as frustrating. It costs time as well as money. For retailers who need connections at point-of-sale terminals, power failures can wreak havoc.
Dedicated circuits are the best way to prevent interruptions in the flow of electricity. Interruptions can come from too many devices pulling on one circuit at the same time. Dedicated circuits are individual circuits, connected to their own, singular breaker, instead of being clustered together in a group of circuits. They provide a separate power source for the most important and demanding-devices in your business.
A dedicated circuit is used to ensure that the supply of power is uninterrupted and that operating conditions remain safe.