Acrylic Bathtubs and Showers
Highly durable and easy to clean
Posted 10:53 June 24, 2022
Last Updated 10:53 June 24, 2022
← All Articles
Acrylic showers and bathtubs are quickly becoming the shower of choice for bathroom remodeling projects. Acrylic showers are very easy to maintain, they are easier to clean, and have a longer lifespan than many other types of showers and bathtubs. Acrylic is nonporous, which makes cleaning them with vinegar and water easy. It also makes it difficult for mold and mildew to get a footing in your shower.
Acrylic showers are low cost alternatives to tile and stone showers. However, unlike fiberglass or plastic showers, acrylic showers are very durable and easy to clean. Some come with built-in shelves. They are lower maintenance than stone or tile, easier to install, and don't require constant sealing and grout cleaning.
Acrylic manufacturers offer numerous colors, so you should be able to find just about any color you can imagine. A popular choice for showers and bathtubs are marble imitation patterns. Durability, cost, and beauty make choosing acrylic a good decision.
Acrylic is a very good material for the shower or bathtub surface, but it needs to be backed by a strong material. A resin is usually applied, followed by fiberglass, wood, and foam. The end result is an extremely strong and durable material.
Acrylic vs Fiberglass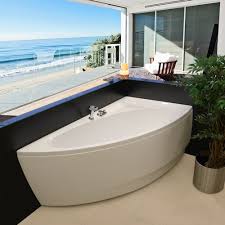 Acrylic and fiberglass bathtubs are the two most common types of tubs in the marketplace. They are similar to one another, but they have some key differences. Basically they are both a molded plastic. Where they differ is in the manufacturing process. Fiberglass bathtubs are laid in a mold. Acrylic bathtubs are heated and stretched onto a mold. Next a vacuum process is used to shrink the acrylic and give the bathtub its final shape.
In the end the two products look very similar. However, acrylic products are far more durable and are scratch resistant. This improved durability comes at a cost. Acrylic bathtubs can be up to twice as expensive as their fiberglass cousins.
Acrylic Bathtub Liners
If you're on a tight budget with your remodeling project, want the improved durability and scratch resistance of acrylic, but a new acrylic bathtub is too expensive, then a new acrylic bathtub liner may be your solution. An acrylic liner can be installed on just about any existing bathtub. You can immediately have a bathtub with a new acrylic finish, all the advantages of acrylic, and without the hassle of tearing out and reinstalling a new bathtub.
Installation of an acrylic liner isn't cheap, but it is cheaper than tearing out your old bathtub and installing a new acrylic bathtub. If you love the shape and size of your current bathtub, but want to cover up scratches, dings, and imperfections, then acrylic liners are often a great compromise over buying a new acrylic bathtub. As an added benefit you can also change your bathtub color.
Conclusion
Acrylic showers and bathtubs are a great alternative to traditional tile showers and porcelain bathtubs. They are easier to clean, less expensive to install, and highly durable. They are more expensive than fiberglass bathtubs or plastic shower stalls, but the added cost provides the increase in durability and ease of cleaning. They are a great middle-of-the road choice for any bathroom remodel project.
← All Articles