Add A Wet Bar To Your Home
You deserve a little luxury.
Posted 10:01 November 25, 2019
Last Updated 11:00 January 05, 2020
← All Articles
While a liquor cabinet provides a better option to storing your liquor bottles on a kitchen counter, a home wet bar will give your home a complete cultural entertainment setting. When you're entertaining guests you don't want to spend all night fixing drinks. You can go from one cabinet to find a drinking glass to your freezer for ice to your liquor cabinet back to your refrigerator for a lime and then to your pantry for olives—just to make two drinks. A home wet bar can allow you to stand in one place, fetch all these items, and still be able to follow the conversation.
The Wet Bar
The most popular type of wet bar is a straight or L-shaped bar in a separate (non-kitchen) setting. It could be in a living room, den, out on the patio, or in a finished basement. You should build your wet bar wherever you most frequently entertain. If you have the space, you may even be able to put in a small home wet bar in your rec room. Wherever your pool table or poker table is, that is where your wet bar should be.
Don't feel constrained by a typical bar counter design. This is your home, not the local bar. A more circular or elliptical shaped bar may be the best fit for your area and decor. The vast majority of wet bars are made from wood or stainless steel. Like most furniture options, go with the wood for a more traditional feel or stainless steel for a more modern undertone.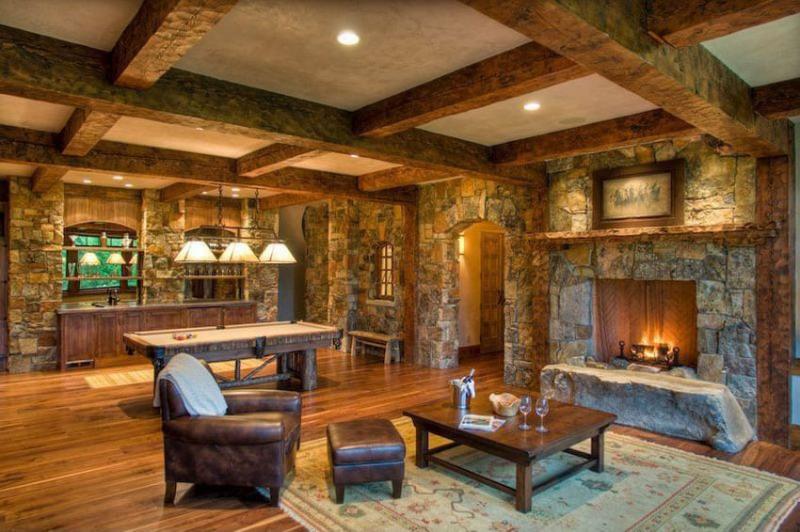 Features
You may think a home wet bar is just a long counter that stores liquor and allows you to make drinks, but there's a bit more to it than just that. Consider your needs and lifestyle. If you like to entertain diverse social groups, your most pressing need may be adequate storage for different wines, liquors, and craft beers. A bar back will give you this kind of storage. If you most often entertain a more intimate group of friends, placing drinks under the bar will allow you to face the room while you're making the drinks. For people whose friends are big beer drinkers, you should probably think about replacing cabinet space for a kegerator. For wine connoisseurs, a wine fridge that will keep your wines at an optimal temperature may be a necessity.
Accessories
First and foremost, you'll want places to sit. While you will have lots of options for the bar itself, bar stools are even more numerous in varying design elements. As cool as the typical bar stool may look, remember this is your home. Chairs with backs and armrests may be more comfortable than flimsy bar stools. You can choose a high, thin chair that will look appropriate next to your bar and still be able to provide your guests with the comfort they'll appreciate. Plus, a sturdier chair will minimize embarrassing falls for anyone who overdoes it a little.
Once you have your home wet bar installed, don't forget the additional accessories that will allow it to work efficiently. Besides a full compliment of cocktail glasses, beer mugs, and shot glasses, corkscrews, ice buckets, ice crushers, coasters, shakers, and bottle openers are all a must. Also think about getting a shot steward rotary for extra convenience. For that final touch, think about classy wall hangings and decorations to create the proper bar decor.
A wet bar also has a sink with running water. This is what separates a wet bar from a dry bar.
← All Articles