Avoid Common Plumbing Scams
The 4 most common plumbing scams in the Las Vegas valley
Posted 04:02 October 14, 2018
Last Updated 04:02 December 04, 2018
← All Articles
Plumbing is a very specialized skill that requires experience and education. Most all plumbers nowadays advertise they are
fast and cheap
. Unfortunately, some aren't very honest and are just out to make a quick buck. Here are some of the most common plumbing scams dishonest plumbers use in the Las Vegas valley.
The Parts Scam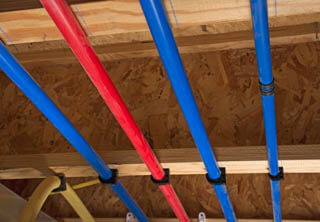 PEX Tubing
This is a material scam. A plumber tells you they are using only the best, high-end materials. They charge a premium and say they are using products like PEX or copper tubing. In fact, they are using lower-cost alternatives and then pocketing the difference.
The only way to make sure you don't fall victim to this scam is to ask for a parts list, verify the parts, and then take the list to a Home Depot or Lowes and verify the parts cost. Verify not just the type of part (PEX for example), but the brand.
Another option is to ask the plumber for a parts list and then get all the parts yourself. Have them ready at your home before the plumber is set to begin work.
Too Many Contractors
In this scam your plumber starts working as soon as possible, but very quickly you notice there are more people in your home than necessary. Sometimes these extra workers are apprentices, but some contractors try to increase their profits by subcontracting parts of a job they could easily finish themselves out to friends or family. They then claim they have no control over hourly rates except for their own.
If you think there are too many people working on your job, ask exactly why each person is needed. If you don't know who is doing what in your home, stop all work and make sure extra costs aren't being incurred due to unnecessary labor. Better yet, only agree to a fixed price contract that does not include a variable price for labor.
The Guy Who Won't Give A Firm Estimate
This plumber is a smooth talker. Every time you ask a question his reply is,
no problem!
He says he's keeping a running total as you move through your house. When you ask for an estimate in writing he says he'll get back to you later. He needs to itemize everything and figure it all out. He calls you later and gives you an estimate over the phone. If you ask for the estimate in writing he claims he'll get it to you later, but he wants to start working right away and he needs your approval.
After some work has been done, or worse - at the end of the job, the final invoice is two or three times higher than what he quoted over the phone.
Fighting this type of invoicing after the work has been completed is very difficult. You don't have an estimate in writing from the contractor.
Never allow a contractor to start working without a written estimate in hand. The estimate should state how much will be paid and when it will be paid. A good contractor will also write a job timeline into the estimate.
The Neighborhood You Live In Is Too Nice
If you live in a very nice neighborhood, have expensive cars in the driveway and a pool in the backyard, some contractors may quote you 25-50% higher for the same job done in a different neighborhood. They just assume you have deep pockets and as a result, their estimates are higher.
Always get a minimum of 3 estimates when deciding to hire a contractor for a major job. It's the only way to keep their pricing honest and inline with local rates.
Conclusion
The easiest way to recognize and avoid common plumbing scams is to hire reputable professionals. Ask questions – many questions. If a plumber wants your business they will answer your questions in a straightforward manner. They will produce a business license and bonding information. Unlicensed contractors may charge less, but it is very dangerous to use an unlicensed contractor.
It's your money, it's your house. If a contractor quickly gets offended or angry about your requests for high-quality work or written estimates, alarm bells should be going off in your head. It's very likely they're dishonest or worse - a scammer.
← All Articles