Don't Put Off Fixing That Leak
Leaks only grow worse over time.
Posted 07:55 June 14, 2019
Last Updated 07:55 November 04, 2019
← All Articles

In the world of plumbing, a small leak quickly turns into a serious problem. Plumbing problems never take care of themselves. They must be repaired. Here's three ways small problems turn into massive homeowner headaches:
Over time a small leak eats away at the floors, walls, and anything else it comes into contact with.
As time goes on, the damage a leak causes will worsen. Time is your enemy when it comes to the amount of damage leaks can cause. With hidden leaks, this problem is more serious. If you see neither the leak nor the damage it is causing, it continues to grow worse and more severe over time.
Leaks can lead to mold, a major health problem.
A small leak can lead to mold and related issues in a very short amount of time. Mold is a health hazard for all people living in the house. The very young and very old are especially vulnerable to mold-related illnesses. If you're looking to sell your home, many counties and states require a mold inspection report before a sale can be completed. If your home has mold, you won't be able to sell it until you clean it up.
A leaking pipe presents many other problems.
Low water pressure is one of the first, early signs your home water system has a leak. Leaking faucets can quickly cause damage to plumbing fixtures. Utility bills increase, property damage occurs; there is no upside to not fixing a leak.
The professional plumbers here at All Trades specialize in
leak detection
. With our specialized equipment we can find any leak in or around your home, pool, or spa. Don't put off fixing that leak that has been damaging your property. We service Las Vegas, Henderson, Boulder City, and most parts of Clark County, Nevada. We're currently running a special for new customers.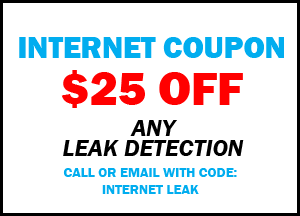 ← All Articles