How To Prevent Frozen Pipes This Winter
Winter is coming. Time you review home pipe safety.
Posted 18:01 November 29, 2020
Last Updated 08:21 December 06, 2020
← All Articles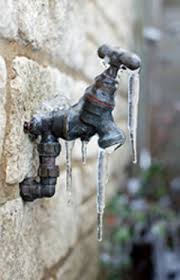 It's almost December and winter is almost here. Here's a quick review to prevent frozen pipes this winter season.
Insulate Pipes
If you have pipes that run through a wall that is exposed to the outside (an exterior wall), make sure the pipes are insulated.
Check Your Water Meter
The water meter is usually the responsibility of the city, but you can help out by packing the pit with an old blanket or towel.
Remove Hoses
Outside hoses are the first to freeze. Disconnect them and bring them inside.
Open Cupboard Doors
On very cold nights, open up kitchen and bathroom cabinet doors. It will help warm the faucet pipes.
Eliminate Drafts
Close off crawl space vents and doors. Make sure all windows and doors are sealed.
Keep Water Running
On an extremely cold night you can keep the water running by just turning a tap on a little bit. Running water takes longer to freeze.
Thaw Pipes
If you think a pipe is frozen, use a hair dryer to thaw it. High heat, 4-6 inches from the pipe should clear frozen pipes in a few minutes. Move the hair dryer back and forth slowly.
Don't let frozen pipes turn into an expensive repair job this winter. If you have a plumbing emergency, contact the professionals here at All Trades. We offer 24/7 emergency service. Our service area includes Las Vegas, Henderson, Boulder City, and most of Clark County, Nevada.
← All Articles