How To Save Money During The Winter
Save money on your heating bill with your HVAC unit
Posted 09:34 September 28, 2017
Last Updated 08:23 November 17, 2017
← All Articles
Here in Nevada we have high cooling costs during the scorching summer months. The beginning of spring and the end of fall can be mild, but we generally face at least 6 months of high electric bills. During the winter our HVAC units use natural gas or propane to heat our homes and those bills increase instead. It's easier to save money on home heating than it is on home cooling. Here are a few tips on how you can save a little money during Nevada's winter months.
Turn Off The AC
In the wintertime it rarely gets into the 80s in southern Nevada. If it does, your AC unit may click on for an hour or two. Make sure your AC unit is off so it doesn't try to turn off and on occasionally. Daytime is short in the winter, and it's okay to warm your house up a little. At night when the temperature drops back down, your home will have stored some heat and you'll need your furnace less. In the day, if it does get too hot inside your home for your comfort, open up a few windows instead. The heat only sticks around for an hour or two.
Open The Curtains Or Blinds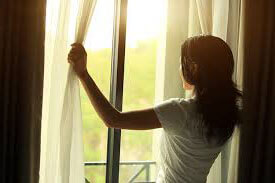 Most of the time you won't need your AC at all. When daytime temperatures max out in the high 50s, you may want to turn on your furnace. But by simply opening your curtains and blinds you can increase the temperature inside your home. If you have south-facing windows, those are the best curtains to open up. The winter sun will shine though the glass, raising the temperature inside your home by 10 or even 20 degrees.
Seal All Windows And Doors
Southern Nevada is known for its high winds. Make sure all windows and doors are draft-proof. On a windy day check all your windows and doors. If any air is blowing in, seal the crack with silicone caulk. It costs around $2 a tube at your local hardware store. This will improve your home's ability to retain heat in the winter and keep heat out in the summer.
Install A Programmable Thermostat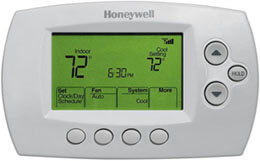 One of the easiest ways to save money on both heating and cooling is to install a programmable thermostat. Lower the heat (or raise the setting in the summer) when you are not home by 10 or 15 degrees. You don't need to heat or cool your home by as much when you are not home. Program the thermostat to return to a normal setting about 10-15 minutes before you normally return home.
It's not a good idea to entirely turn off your heat or AC when you are way. If the temperature drops or rises by too much, it will take your central air unit a long time to return your home to a comfortable temperature, and you may end up spending more money on utilities, not less. A temperature difference of 10-15 degrees is ideal, and your unit will not have to work that hard when you return home.
Have Your HVAC Unit Serviced
Your HVAC unit has coils, fins, and numerous parts that need to be routinely inspected and cleaned. Doing so helps ensure your expensive HVAC unit has a long and healthy life. It also ensures your unit doesn't have to work harder than it needs to, which saves you money in both the short and long run.
All Trades offers a springtime AC checkup special, but you can do this in the wintertime instead. So long as you do it once a year, it doesn't really matter when you do it. Get ahead of the crowd and do it in the wintertime, when no one else is thinking about it.
All Trades has highly skilled technicians and we offer fast same day service in Las Vegas, Henderson, Boulder City, and most areas of Clark County Nevada.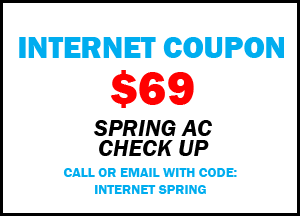 ← All Articles