My Home Has No Water
Troubleshoot no water problems in the home
Posted 06:28 September 17, 2018
Last Updated 06:28 November 01, 2018
← All Articles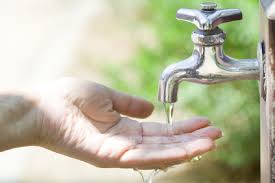 When you go to turn on a faucet and nothing happens, it's one of the worst feelings a homeowner can have. What's wrong?
Troubleshoot
Check another faucet. The first step is to see if the problem is with just this faucet or with the entire house. If all other faucets in your home have water you know the problem is just with this one faucet. If some faucets have water and some don't, that may indicate a major water leak somewhere in the home. Water has been cut off to a part of the house.

If the entire house is without water, check with friends and neighbors in your neighborhood. If you're on a city water line, you want to find out if the whole block is out. If everyone has lost water, you know it's a city water issue.

If your entire home does not have water but your neighbors do, check your water main. It's usually located out in front of the home, near or within the sidewalk. There's a metal cover to remove. Underneath you'll find your water meter and a main shutoff valve. The first step is to check the shutoff valve. If it is shut off and padlocked, someone from the water company has shut off your water. You'll need to contact them.

If you have an emergency shutoff valve, something may have triggered it and the valve has cut off water to your home. You can try resetting it.

If your neighbors have water, your home has no water, and the main shutoff valve is open, the most common cause is a water leak somewhere between the shutoff valve and inside your home. Water leaks can be very difficult to find and repair. The leak detection specialists at All Leak Detection in Las Vegas, Nevada are leak detection specialists. They can find any leak, anywhere. They specialize in water main leaks, irrigation leaks, slab leaks, and pool and spa leaks. They offer fast, same-day service. After they find your leak you're given an honest, no-obligation quote for repairs. They can repair your leak and get your home back up and running, all with minimal disruption to your home and property.




All Leak Detection services Las Vegas, Henderson, Boulder City, and most parts of Clark County, Nevada. They are offering a discount to new first-time customers. Use the coupon code below when you contact them.


← All Articles