Signs An Electric Water Heater Is Going Bad
Signs your hot water heater is about to fail
Posted 10:36 August 22, 2017
Last Updated 08:28 November 17, 2017
← All Articles

Your hot water heater is an important part of your home. When your unit fails, you quickly realize how much you have come to depend on hot water. If you recognize the warning signs, you can identify when a water heater is about to fail. You can then either service it or replace it, so you're never without hot water in your home.
Noise
If your water heater is rumbling or making any new and/or unusual sounds, it's a sign that sediment is building up inside the unit. Air bubbles rising through the sediment can cause rumbling. Popping or crackling noise are from the sediment. As the amount of sediment increases, the heating element has to work harder and harder. If left unattended, eventually the heating element will burn out.
You should drain and flush the unit to get out as much of the built up sediment as possible. Draining the unit is not enough, you must also flush it. You may not be able to get all of the sediment out, but flushing the unit may extend its service life.
Warm Water, No Hot Water
If you have luke warm water, but not hot water, it could be a sign that one of the heating elements has gone out. Conventional hot water heaters have two heating elements. The remaining one, which is still working, isn't strong enough to heat your water to the desired temperature on its own.
If left unattended, the remaining element will fail rather quickly. The functioning element is being overworked and running all the time. This also causes your utility bill to rise. You should replace the burned out element as soon as possible.
Slow Recovery Time
You know your hot water heater and how it works. When it runs out of hot water, you know from experience how long it takes to heat water back up again. If the recovery time is getting longer and longer, this is another sign of sediment building up inside the unit. Your unit begins running longer, your utility bills rise, and eventually the heating element will fail from overuse.
You should drain and flush your hot water heater as soon as possible. Try to remove as much of the built up sediment as possible.
The Water Heater Is Leaking
If there is any standing water around or under your tank, your unit will fail very soon. The unit cannot be repaired and it must be replaced. The entire tank is about to fail. When it does, all the water inside the tank will empty out into the area around the tank. In addition to having to replace your hot water heater, you may suffer water damage to your home. Many homeowner insurance policies do not cover water damage.
Replace your unit as soon as possible, before the situation develops into a more serious problem.
Maintenance and Care
Conventional (tank) hot water heaters last 10-15 years on average. With regular care and maintenance you can maximize its service life.
Drain and flush
the hot water heater every six months. This removes sediment from within the tank.
Check the
pressure relief valve
. It's a safety device, designed to release pressure from within the tank when it becomes over pressurized. If the valve fails and cannot release pressure, the unit will fail when it does become over pressurized.
Electric hot water heaters have an
anode rod
that needs to be periodically replaced. If you don't replace it, the unit will fail faster.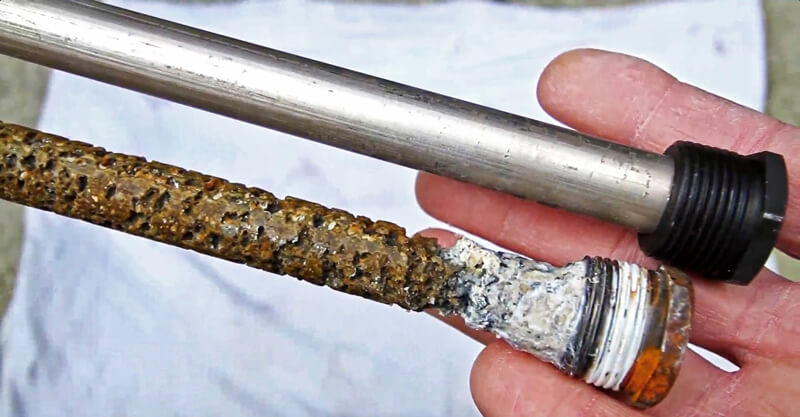 An anode rod that needs replacing
All Trades
in Las Vegas, Nevada installs, repairs, and services all types of hot water heaters. If you have a water heater problem, contact us today and we'll get hot water flowing back into your home as quickly as possible. Our service technicians are highly experienced and our work is fully guaranteed. We are also experienced
tankless hot water heater
installers. Clark County requires all hot water heaters be properly inspected and permitted. We take care of everything for you.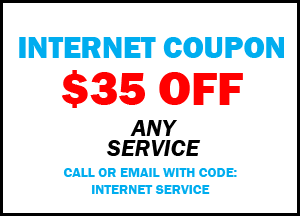 ← All Articles