Solar Hot Water Heaters
Go green with your hot water heater
Posted 06:18 January 29, 2018
Last Updated 06:18 April 01, 2018
← All Articles
For most homeowners, your hot water heater is the 3rd largest energy drain in your home (after air conditioning and heating). If you're serious about going green, a solar hot water heater is a great choice. You can save money on your electric bill each month, reduce your carbon footprint, and make a real impact on the environment.
Cost
Solar hot water heaters are more expensive than traditional old-fashioned tank units. You'll pay more for the initial unit and you'll pay more for installation. However, over time these costs are offset by your lower monthly energy usage.
One of the nice things about solar water heating systems is their many parts. While this does lead to more potential points of failure, it makes repairs cheaper. If the tank fails, you only replace the tank, not the entire system. The solar unit is incredibly robust and can last 25-30 years or more.
Nighttime
As you might expect, solar hot water heaters do not continue to heat water at night, although there will be residual heat for a few hours after sunset, depending on the temperature around your hot water tank. You can pair your system with a backup traditional hot water heater to make sure you always have hot water. If you want to be extremely efficient, a backup
tankless hot water heater
is an excellent choice.
Socially Responsible
It is normal for homeowners to feel overwhelmed when researching their green options. Going green is always a little more expensive upfront, but over time the higher cost is offset by lower energy consumption. It is also socially responsible. We should all try to do our part and lower our energy consumption. Not everyone will install big expensive systems (or should they). But if we all make an effort, we will create a better future for our children and grandchildren.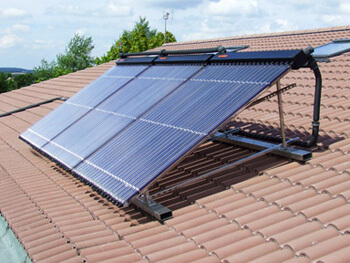 You have many
hot water heater choices
. All Trades in Las Vegas, Nevada can help you install your new solar hot water heating system. We treat our customers with the highest level of respect. We know your time is valuable. Contact us today and find out why we are one of the highest rated plumbing and air conditioning companies in Las Vegas.
← All Articles