Turn Your Home Into A Smart Home
Until recently, home automation systems were expensive and unknown to most people
Posted 04:29 September 25, 2018
Last Updated 04:29 November 02, 2018
← All Articles
Over the last few years, the sheer number of home automation devices available for the consumer market has increased exponentially. No longer just for the rich and famous, these devices can turn your ordinary home into a
Smart Home
. There are many rewards and benefits that come with installing these new automation devices.
What Is Home Automation?

A simple home automation
socket that can be controlled
via a smart phone app
Home automation puts control of the home into the hands of the homeowner. You can take control of virtually any electronic device: lights, a refrigerator, the HVAC system, electric curtains or shades, even the coffee maker. Internet-connected devices are installed near where the device you are controlling is located. You can then turn the device on, off, or set it on a schedule from a smart phone app.
Just 10 years ago these systems were very expensive, but today they are much more affordable. A simple device that controls one electrical socket can be easily installed by any homeowner and costs around $30. For more complex installations (for controlling an HVAC system, for example) you will probably want to hire a professional.
The Benefits Of Home Automation
1. They are energy efficient.
Schedule things to turn off when you are not home. Put your HVAC on a schedule. Why should you pay for air conditioning when no one is home? Program the HVAC to come back on 30-45 minutes before you come home from work every day. A smartly programmed home automation system can pay for itself in reduced energy costs.
2. Increased home security.
There are new biometric door locks that will open with just a swipe of your finger. Lights can be programmed to turn off and on when you are away. Remotely view security cameras and turn on yard flood lights when you receive an alert. Smart homes are more secure homes.
3. Smart homes are convenient.
No more relying on friends or neighbors to watch your home when you are gone. Do you have a pet sitter or a housekeeper? Give them one-time access or permanent access to your home. A good home automation entry system will log all visitors.
4. Smart homes pay for themselves.
Use home appliances only when they are needed. A well-designed home automation system can pay for itself in 1-3 years. You'll reap all the benefits and in the end it will cost you nothing.
5. Home automation systems provide comfort and peace of mind.
No more worrying if you left the garage door open, the coffee pot on, or the odd light on. Quickly launch the app on your phone and review every device in your home in seconds. Close that garage door. You can tie any electric device into a home automation system – even yard irrigation systems.
Maybe you have an emergency and you need to let a friend into your home. Now you can with just a simple tap on your phone. Smart homes are the ultimate form of comfort and peace of mind.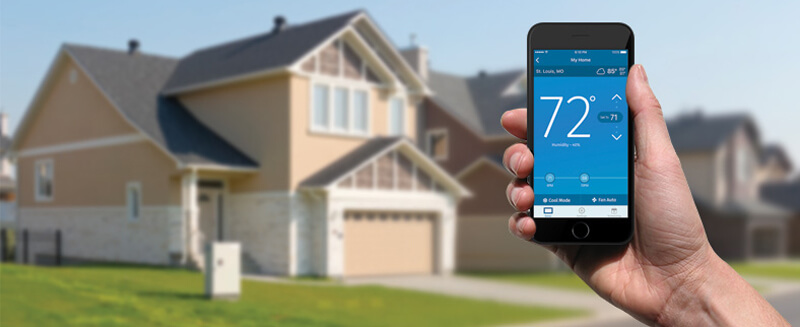 Conclusion
Smart homes and home automation systems can put total control of the home into the hands of their owner. No longer just for the rich and famous, smart home devices are readily available at a low cost. If you want to install a complex system, contact All Trades and we can guide you. We service Las Vegas, Henderson, Boulder City, and most parts of Clark County, Nevada.
← All Articles