Call a Professional Plumber
Don't live with bad home plumbing.
Posted 14:35 November 13, 2022
Last Updated 14:35 November 13, 2022
← All Articles
Plumbing is an essential part of every home. Sometimes you need to do a repair, or maybe you're considering a renovation. Whatever the case, you'll eventually need a plumber.
When To Call a Professional Plumber?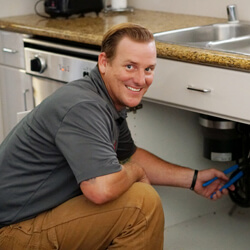 The most common problems found with plumbing include:
Rattling pipes
This may be caused by
several factors
. The pipes may not be sufficiently secured or strapped to the wall frame. There may be air in your pipes. You might have low water pressure. A professional plumber can help diagnose and fix the issue.
Slow drains
The drain may be partially clogged. A dishwasher may be improperly plumbed. Professional plumbers can help alleviate these issues for you.
Low water pressure
Maybe you lose hot water when another faucet is turned on. Cold and hot water may not be properly balanced. A pressure balance valve might be required. A professional plumber will have the answers.
Toilet leaks
Plumbing parts inside the tank might need replacing. Toilet seals may need replacing. Why waste water with a toilet that always runs? Contact a professional plumber.
Remodeling and Renovations
A professional plumber will make sure your project is completed correctly and on time.
The internet can't teach you how to be a plumber
. It takes plumbers years to accumulate the knowhow and wisdom to be able to diagnose and fix issues right the first time. Before you take bids from potential plumbing contractors, make sure you have extensive and detailed plans. Provide each candidate with identical copies of the plans. A good rule of thumb is to get at least three different bids for any project. Ask candidates if they are licensed to do plumbing. Ask them for their Nevada State Contractors Board license number and look up their history.
Ask each candidate when they can start and when the project will be completed. Establish firm timelines.
Conclusion
Professional plumbers are essential for any project that requires expertise. The professional plumbers here at All Trades are here to serve you. Nevada State Contractor Board licensed, we have the knowhow and manpower to get your job done right the first time. Contact us today for a no-hassle, no-obligation quote. We service Las Vegas, Henderson, Boulder City, and most of Clark County Nevada.
← All Articles