Common Home Plumbing Problems
What most homeowners will eventually face
Posted 16:10 October 08, 2022
Last Updated 16:18 October 08, 2022
← All Articles
A clogged toilet is embarrassing, and the idea of calling a plumber for it feels like an overreaction. Clogged toilets, backed-up sinks, or a water bill that sky rockets are all signs that a much larger issue is present.
Some
plumbing problems
are minor, but when they are left unchecked they can grow into major homeowner headaches. Plumbing problems don't fix themselves. They only grow worse over time.
Here are some common plumbing problems homeowners often face:
Leaky pipes

Dripping faucets

Slowly draining bathroom sinks or tubs

Slowly draining kitchen sinks

No water on a cold day

High water bills


Slowly Draining Bathroom Sinks or Tubs

More often than not, hair is usually the culprit. Savvy homeowners may rush for a coat hanger to fish out the hair and clear the clog. But professional plumbers issue a word of caution: jamming coat hangers down old pipes is a good way to rupture one and cause a larger issue.

"Plungers are your best bet here. They're not just for toilets, they work great on sinks too. They can clear a hair clog very fast," says Robert Mckechnie, owner of All Trades.

Avoid products like Drano or Liquid Plumber. They can damage older pipes just like coat hangers.

In cases of a larger clogs, or clogs that are deeper down the plumbing line, calling All Trades is your best if you don't feel comfortable unscrewing pipes. All Trades has Hydro Jetting technology that can clear stubborn, deep clogs in a fast and safe manner.


Slowly Draining Kitchen Sinks

In the kitchen, a slowly draining sink is usually caused by food or grease buildup. If you have a garbage disposal, run it with the water running to clear it of any food. If that doesn't solve the problem or if you don't have a garbage disposal, try hot water and dish soap. You'll need something that cuts through grease, and dish soap is a great safe way to approach this problem.

Also, don't forget it plunger. What works in the bathroom often works in the kitchen too.


Leaky Pipes

If you find a pipe that's leaking, it needs your immediate attention. Small leaks waste more water than you might think. They leak 24 hours a day and can cause your water bill to skyrocket.

A leak is often a sign of a much bigger issue, so it's good to call a professional plumber to determine the source of the problem. High water pressure frequently causes leaks in old supply hoses to toilets, sinks, water heaters, and washing machines. Pipes enclosed inside walls, ceilings, and floors can be a major homeowner headaches too. Here, calling a professional plumber as soon as possible is your best bet.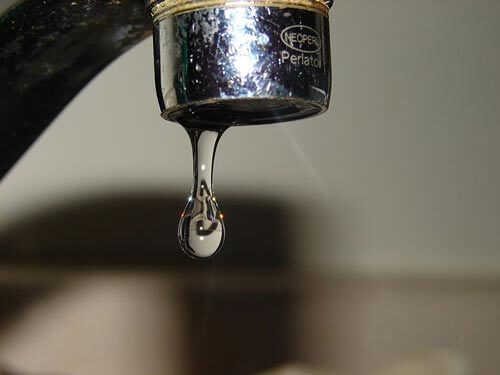 Dripping Faucets

If you have a faucet that drips constantly, there are a few possible causes. The most common cause is the small washer in the faucet handle needs to be replaced. It's a pretty minor job which involves removing the handle and valve stem of the faucet, to access the defective washer. Replace the washer with a new one and more often than not, your problem is fixed.

Some faucets also have o-rings, which can degrade over time and need to be replaced. Most homeowners are able to fix this minor problem with a little determination and ingenuity.


No Water on a Cold Day

If it's winter and you don't have water, it's a clear sign that you have a frozen water supply line. If your home has pipes in walls that are exposed to the outside (exterior walls), your home is especially susceptible to pipes freezing in winter.

If you don't address the problem as quickly as possible, you might end up dealing with a major issue: bursting pipes.

The frozen pipes need to be thawed out as quickly as possible. Don't give them time to burst. Shut off your water and warm the affected wall as quickly as possible. Don't use electrical appliances to do this. If a pipe bursts and water floods the area, electrical appliances also in the area pose a major hazard of electrocution. Shut off your electricity at the breaker box to eliminate electrocution risk.

Pipes need to be insulated so they don't freeze. If you have an older home, your pipes may have little to no insulation. Getting them insulated by a professional plumber will help prevent your pipes from freezing in the future.

All Trades is always on call for your plumbing emergencies. We service Las Vegas, Henderson, Boulder City, and most parts of Clark County Nevada. Contact us today for a no-hassle, no-obligation quote. We'll fix it right the first time. We offer same-day service in most cases.



← All Articles