Plumbing Hydro Jetting versus Snaking
Two ways to clear plumbing clogs and blockages
Posted 09:10 August 28, 2022
Last Updated 09:10 August 28, 2022
← All Articles
If you're dealing with a clogged drain and you have been unable to unclog the drain on your own, it's time to hire a professional plumber. The two most common ways to clear clogged drains is via hydro jetting and snaking. Each has different pros and cons. What's best for your clogged drain will depend on a few factors.
If you haven't tried to
unclog the drain on your own
first, you should. You might be able to save yourself a service call. If you've tried our tips but still have a plumbing problem, hydro jetting or snaking may be your solution.
Plumbing Snaking
Plumbing snakes come in many sizes. Sometimes called a plumbing auger, smaller and simpler designs are consumer grade. Home improvement or hardware stores often stock smaller plumbing snakes. Designs vary, but the idea is the same, work the snake through your plumbing pipes until it hits up against the clog. At this point you want to either break the clog up into smaller pieces so it flows through on its own, or burrow into the clog so you can retract the snake and remove the clog from your plumbing system.
Snakes are good at clearing mild to moderate clogs and blockages. They're good for common hair clogs and clogs that aren't too deep in your plumbing system. Professional or contractor grade snakes come in much longer lengths and are able to reach clogs deeper in your plumbing system.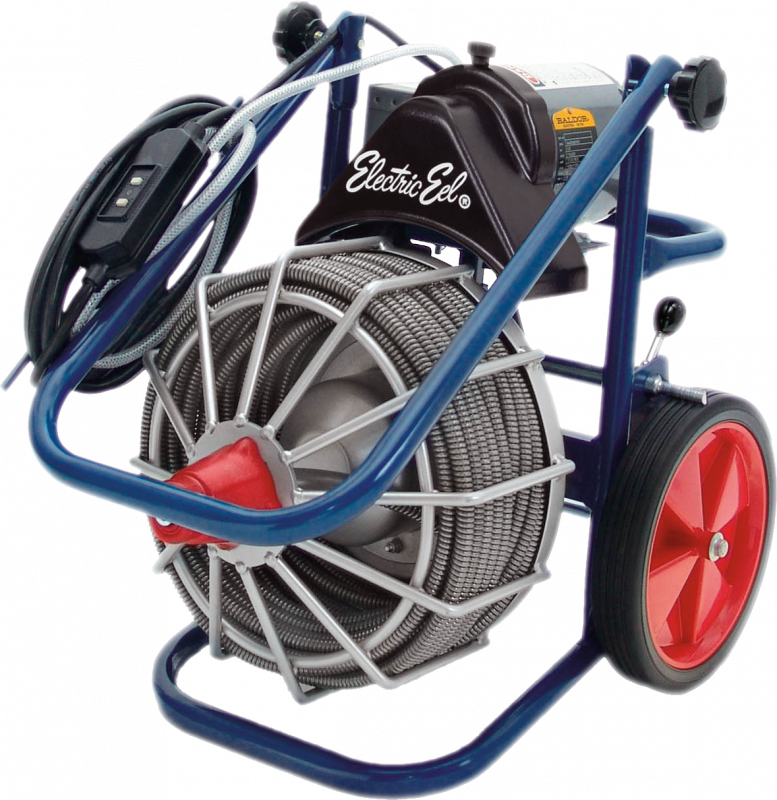 Professional grade snakes can also fit different attachment heads. Your plumbing specialist can fit various blades, hooks, and retrievers. Tough blades can cut through dense tree roots that have invaded your plumbing lines. Heavy duty hooks and retrievers can extract irregular bulky objects from your plumbing system.
Snakes can clear grease-based clogs, but they're not as ideal as hydro jetting. A snake might be able to get your drain flowing, but it might not be flowing at its maximum potential.
Hydro Jetting
Hydro jetting
is a professional drain cleaning solution and should only be performed by professional plumbing contractors. Hydro jetting uses high pressure water to clear and clean your drain lines. In addition to removing blockages, hydro jetting cleans the interior walls of your plumbing pipes, restoring full drain flow to your plumbing system.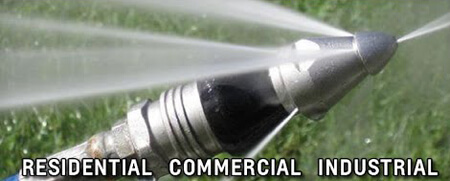 With hydro jetting you don't need to know where the clog is. High pressure water pushes stuck objects through your plumbing pipes. Hydro jetting is also good at reaching clogs that are very deep in your plumbing system.
In restaurant environments, regular hydro jetting is beneficial in order to keep grease and food particle build up in check.
Hydro jetting can break up small to medium sized tree roots. For larger dense roots, a snake with cutting blades may be a better option.
Before hydro jetting is performed, a video inspection of your pipes should be undertaken. This is to look for any weaknesses in your pipes. Hydro jetting is very powerful and it may break pipes that are fragile or weakened by age.
If your pipes were repaired in the past via CIPP or another
trenchless pipe lining
solution, you must use hydro jetting to clean your pipes. Snakes can damage cured in place pipes.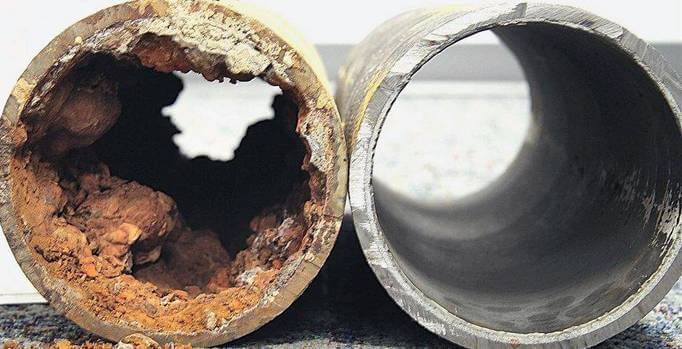 Before and after cleaning interior pipe walls with hydro jetting
Conclusion
Both hydro jetting and plumbing snaking can clear clogged drains. Which you decide to use will depend on your situation.
All Trades
has decades of experience in clearing all sorts of plumbing clogs. Fast, same day service is available. We service Las Vegas, Henderson, Boulder City, and Clark County Nevada. We have professional equipment and professional plumber contractors that are ready to get your drains flowing again.
← All Articles