Trenchless Pipe Lining
Zero Dig Technology
Posted 05:37 July 17, 2022
Last Updated 06:23 July 17, 2022
← All Articles
Trenchless pipe lining (aka Cured in place pipe or CIPP) is an efficient and low cost alternative to traditional sewer pipe replacement. By opening up only one entry and exit point we are able to repair your broken sewer line with minimal damage to your property. We don't have to dig up your yard, lawn, asphalt or concrete. We find were the break is, and then you decide whether you want to do a spot replacement or replace the entire line (up to 500 feet).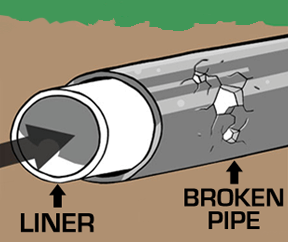 Trenchless Pipe Lining Benefits:
30 - 40% cost savings over pipe replacement
Increased water flow due to smoother interior material
Very little property damage
10 year materials warranty
50 year life expectancy

When to choose Trenchless Pipe Lining:
You have cast iron pipes that are deteriorated
Your pipes have root intrusions
You have split and/or cracked pipes
Your pipes have large holes in them
You have pipes with sections missing
How it Works:
Our plumber technicians create just 2 holes: one entry and one exit.
We clean the pipeline of any blockages.
Resin is mixed and poured into a liner, which is inserted into the pipe being replaced.
Inside the liner is a balloon. The balloon is inflated and holds the liner in place and allows it to cure.
The balloon is removed and the new pipe is ready for service.
Your new inner pipe liner is a strong and new stand-alone pipe. The liner is designed and strong enough to go under load bearing footers, roads, driveways etc. Contact All Trades today and find out how we can solve your broken sewer problems. We are specialists in
trenchless pipe lining
. We service Las Vegas, Henderson, Boulder City, and most areas of Clark County, Nevada.
← All Articles