Preventing Mold In Your Home
Don't let mold get a foothold in your home
Posted 04:23 January 15, 2018
Last Updated 04:26 April 01, 2018
← All Articles
Mold is devious and sneaky. It thrives in dark damp places and has a voracious appetite. It can be harmful to your health, damaging to your property, and is very difficult to completely remove. Mold doesn't just grow in basements. It can gain a foothold wherever it is dark and moist.
There are over 100,000 different varieties of mold fungus. You would think mold would be adverse to our hot, dry Las Vegas desert climate, but it isn't. Some species of mold are very hardy and thrive here. In order to grow, mold simply needs moisture and organic matter to feed on. Mold is adverse to direct sunlight. The darker a potential growth spot is, the better.
Inspection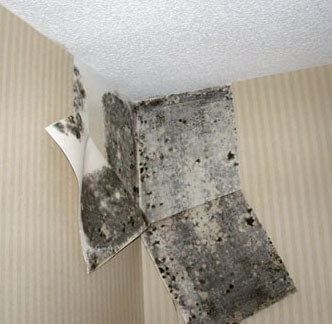 The first step is an inspection of your home to make sure it is mold-free. You want to make sure any mold you have is completely eradicated. It's always best to contact a professional, but if you want to conduct a basic inspection yourself, make sure you cover your eyes, nose, and skin. Wear goggles, a mask, and gloves to protect yourself from mold spore exposure. Don't risk your health.
The place is start looking is anywhere
you have had a water leak in the past
. The telltale sign of a mold infestation is a damp, musty odor. Whenever you smell a musty odor in a location it warrants further investigation. Think of moldy bread, the smell will be similar, but fouler.
Around 15% of people worldwide have an allergic reaction to mold spores. It's possible that someone in your family has been experiencing mold allergy symptoms. Asthma, wheezing, eye irritation, congestion, and skin rashes are all symptoms of mold allergies that are made worse by exposure. If a member of your familiar always has worse symptoms in a particular room, that room needs to be completely inspected.
Check all your water sources. Check all of your pipes, sinks, kitchens, bathrooms, and laundry room. You don't need a water leak to have a mold infestation. If you have a room that experiences high humidity, water in the air can condense and cool, leading to a breeding ground for mold. You won't necessarily see a big furry black spot on your wall. More likely it will be much more subtle. Look for stains, discoloration, peeling paint, and tiny mold spots. These are indications of a larger mold colony nearby.
If you have a basement or crawlspace, inspect these areas carefully and thoroughly. These are prime breeding grounds for all kinds of mold. Outside your home, wooden decks are another area mold loves to grow. Cracked, splintering, and rotting boards are indications that you may have a mold problem in your deck.
Fix Water Leaks
If you discover any water leaks during your inspection they should be fixed immediately. Even if you don't have mold now, a water leak can lead to a future mold problem.
All Trades
can fix any water leak you may have. We service Las Vegas, Henderson, Boulder City, and most of Clark County Nevada. We offer fast same-day service and can fix your problem with minimal disruption to your home. We know your time is valuable and we respect that.
Early detection and removal of mold will protect your property from further damage. It will also protect your family's health. An ounce of prevention is better than a pound cure. Never let water leaks go unattended and threaten your home and family.
← All Articles