Trenchless Pipelining
Cured In Place Pipe
Posted 04:20 December 06, 2019
Last Updated 04:20 December 06, 2019
← All Articles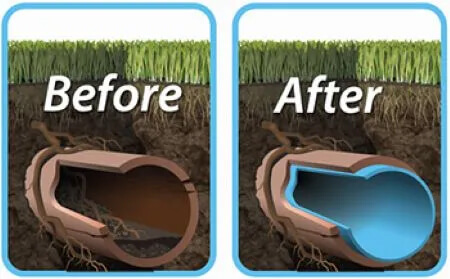 A cured-in-place pipe (CIPP) is one of many different trenchless repair methods used to repair existing broken pipelines. CIPP is a pipe within a pipe. It is seamless and without joints. A wide range of pipe diameters can be rehabilitated. Trenchless pipelining can repair pipelines with diameters as small as 4 inches and as large as 100 inches or more. Common applications are for water, sewer, water, gas and chemical pipelines.
How CIPP Works
Very little digging is required with CIPP repair. After the point of repair is identified, an entry and exit point are created. The damaged pipe is cleared of any blockages.
Hydro Jetting
may be used to help clear blockages.
A resin-saturated tube that is made of fiberglass, polyester, or another similar material is pulled through the damaged pipe. Inside the liner is a balloon that is inflated with either air or water. The tube is held in place with the balloon and allowed to cure. Curing can be accelerated with hot water, steam, or ultra violet light.
After the tube has fully cured (set and dried) the balloon is deflated and removed. The new pipe is inspected with a CCTV video feed. After an inspection the new pipe is ready to use. Due to the lower excavation requirements of
trenchless pipe lining
, it is often less expensive and less disruptive than traditional, "dig up and replace" pipeline repair methods.
History
Eric Wood invented cured-in-place pipe technology in 1971. His name for the technology was
insitu form
. The name is Latin and means
form in place
. Wood applied for a US patent in 1975 and it was granted in 1977. Insituform Technologies (from Wood's original name) was created. They held the patent and were the only company allowed to utilize trenchless pipelining repair technology.
In the late 1970's Insituform Technologies began commercial and residential applications in Japan and Europe. In the early 1980's the process started being used in residential applications in the United States. In 1994 the patent expired and CIPP technology has been in the public domain ever since. Numerous companies immediately emerged and started using CIPP repair.
Advantages
If a pipeline is broken, structurally unsound, or leaking, CIPP offers an alternative to traditional "dig up and replace" pipeline repair methods. Sometimes existing access points are enough to undertake a repair, in which case no excavation is required at all. If excavation is required it is usually very minor and does not require an extensive disruption to the property.
CIPP has a smooth interior. There are no joints. As a result, CIPP can repair pipes with bends. Special design considerations must be made when repairing bends, in order to prevent stretching and wrinkling.
Modern CCTV video technology is readily available. It is easy to inspect new pipelines.
The overall cost of CIPP is oftentimes far less than that of traditional pipeline repair.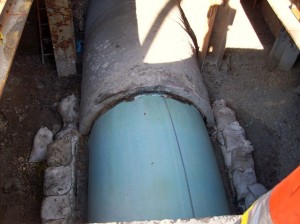 72 inch pipeline repair project by Insituform Technologies for the City of Tampa
Disadvantages
Any blockages or obstructions that exist in the broken pipeline must be cleared before CIPP repair can be performed.
The time for CIPP to cure varies depending on the size of the project. Cure time ranges from a few hours to 30 hours or more. During this time period the flow to the existing pipeline must be totally shut off or bypassed. The curing process must be carefully monitored. After curing, the new pipeline must be thoroughly inspected and tested.
Repairing bends must be undertaken cautiously. Special liners must be used that resist wrinkling and folding. The larger the diameter of pipe, the more likely it is that a bend can be repaired. The liner material used in common sizes is oftentimes made of a felted fabric (non-woven) that does not go around bends well and liner wrinkling may result. When repairing bends, a liner made of a woven fabric is required.
After a pipeline has been repaired with CIPP, the pipeline can no longer be snaked with a machine or other mechanical methods. The pipeline must be cleaned via Hydro Jetting.
All Trades
We are experts in CIPP and trenchless pipe lining. We have the equipment and experience that you need. Let us evaluate your situation and determine if trenchless pipe lining is a suitable solution for you. If it is, you may be able to get that broken pipe repaired at lower cost and with minimal site disruption.
All Trades
services Las Vegas, Henderson, and Boulder City, Nevada. We offer fast professional service at reasonable no-hassle rates.
← All Articles