The Case for Pipe Relining
An alternative to pipe replacement.
Posted 15:39 December 10, 2022
Last Updated 15:39 December 10, 2022
← All Articles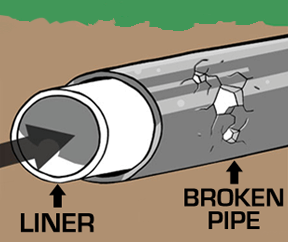 The plumbing industry has been around for centuries, but there is still plenty of innovation going on today. One area that's getting a lot of attention is pipe relining. While very few plumbers offer pipe relining, All Trades specializes in it. Here's why pipe relining is a smart and cost-effective alternative worth consideration.
The Cost
The cost and expense to excavate and remove concrete in driveways, sidewalks, and basement floors is sky high.
Hydro excavation can help control these costs
, but it's still an expensive undertaking.
Reach
When an underground pipe bursts, the area of breakage may be very difficult to reach. With pipelining, you need just 2 small excavation holes: the start and end points. This makes accessing the entire pipeline much easier.

Understanding Pipe Relining
Pipe relining is the process of placing a liner filled with epoxy resina into the old broken pipe. The liner then hardens and essentially becomes the new pipe. The entire process works like this:
• Insert a camera into the host pipe. Examine the breakage and measure space.
• Cut a custom liner.
• Impregnate the liner with resin.
• Load the liner into a drum, which then inverts and places the liner into the broken pipe.
• Use a calibration tube. This is a tool that expands like a balloon inside the pipe. Push the liner into place and position it so that it's flush with the host pipe. The force of the calibration tube squeezes out any excess resin.
• Allow the liner to cure. It is a process that takes 4-6 hours.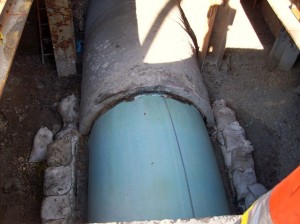 While
pipe relining
has been around for decades in Europe and Asia, it really only gained usage in the United States in the mid-1990s. As a reult, pipe relining is still in its infancy in the US. Only a relatively small number of plumbing companies offer it. All Trades is one of them. We service Las Vegas, Henderson, Boulder City, and most parts of Clark County Nevada. Contact us today and find out if pipe relining is a good choice for your project.
← All Articles